The incredible true story of a frightened abused orphan (with the wrong surname) who became a heroic WW2 RAF bomber pilot and flew 3543 hours during his almost 15-year RAF career
Hello there!
You are about to discover the incredible life story of a heroic WW2 RAF bomber pilot, which has enthralled thousands of people around the world. It's the story of Denis Elliott, the greatest man I have ever known, all told in his own words.
Denis overcame vicious childhood abuse, malaria, brushes with death, Japanese anti-aircraft fire and much, much more.
Thousands have read his unbelievable story and gained a lot from it. Now…it's your turn (we both love a heroic Second World War story, don't we?).
My name is Philip Martin, and right now it's 8:43PM on the 2nd of November 2023. I am sitting at my kitchen table drinking a small glass of Jameson's Whiskey, looking out the window at the night sky and thinking of Denis; we were best friends (I knew him for 16 years and I was his carer for 3).
I have always believed that there are many powerful lessons to be learnt from that heroic generation who took up arms in the defence of their country and freedom. Sadly, their numbers are dwindling, and many people, maybe even you, never got to hear their father's or relative's stories from the war. This includes myself: my grandfather served in the Merchant Navy during the war but passed away before I was born.
I think of Denis every day, but especially at this time of year as Remembrance Sunday is only 12 days away. He was the greatest man I have ever known and serves as a constant source of inspiration for me. You are about to find out why. Read on and be prepared to discover the unbelievable life of a true hero.
Denis was left with no family of his own after his wife passed away in 1992, but for many years me, him and my mother were like a little family unit. Denis would regularly be a guest for Sunday lunch, and we would also have days out and bi-weekly shopping trips. (He and my mother had first met in the summer of 2005 when he sold her his car.)

When I was 18, I began to help him around his house on Saturdays. After work, we would sit down and talk (often over delicious hot cups of tea), and it was during these talks that Denis began to open up about his unbelievable life story, some parts of which he had never spoken about before.
Tragically, in 2018, on a cold March afternoon, I watched Denis being loaded into an ambulance; he was close to dying having come down with a terrible flu-like illness. During Denis's stay in hospital, I visited him every day. I knew how close we had been to losing him and that his astonishing stories needed to be recorded. 
So, during my daily drives there and back I decided how I was going to propose my idea to him. I expected him to say no, as he had done to similar offers in the past. But to me, these tantalising, gripping, death-defying stories had to be told before they were lost forever.
Fortunately, he agreed to my proposal.
Once Denis was settled into his new home in the rural coastal village that me and my mother lived in, we began work on From Orphan to High-Flyer. (He chose the title himself. It's excellent, isn't it?) 
What happened over the next three years was incredible, and something that I still feel honoured to have been a part of. Denis went into the depths of his soul as he poured his heart into recounting his life, including parts that he had never spoken about before. He was brutally honest about the boy he was, how the war changed his life, his RAF career, and much, much more. Take a look for yourself at what each of the 17 chapters (plus the addendum) covers! (Click the images to enlarge them.)
Me and Denis agreed on a question-and-answer format. We picked this format because we wanted you, the reader, to feel as though you are sitting in the same room as us, listening to Denis recount his incredible life story (also, I believe it will remind you of your past conversations with WW2 heroes). You will instantly join Denis as he vividly describes things like:
The brutality he faced in his schooling that would land teachers and officials in jail today.

Why he had the wrong surname until the age of fifteen.


From the ground, witnessing the incredible sight of RAF Spitfires and Hurricanes engage German Luftwaffe Messerschmitts in the skies above Kent, England during the Battle of Britain.

Receiving his call-up papers, reporting to Lords Cricket Ground on the 12th of October 1942 and the events that followed.

Life on the troopship SS Rangitiki, including the incredible 'Crossing the Line' ceremony.

The sickening murder of two RAF cadets in Bechuanaland (now Botswana) and the trial that followed.

The intense pilot training course that he underwent in Southern Rhodesia and the nasty, ice-cold instructor who almost killed Denis during flight training with his awful directives.

His fascinating 1944 experiences in Palestine, where he formed his crew.

Why he, in a fit of rage, pulled a gun on his best friend's crew during jungle survival training in India.

His must-read 23 operational flights with 159 Squadron. (Denis completed 314 hours and ten minutes of operational flying.)

The heroic, charismatic 159 Squadron commanding officer who devised seemingly impossible B-24 Liberator operations, which he then led.

The record-breaking operation that many British and American air force planners wrongly insisted was doomed to fail.

His memories of

USAAF airfields and

the US-built aircraft he flew.

His memories of the Canadians he served with.

His Australian bestfriend during his time in the Far East.


Why he was robbed of being awarded the RAF's Distinguished Flying Cross and the United States Army Air Force's Distinguished Flying Cross.

Flying into and being thrown around in violent storms.

Tragically seeing friends and comrades get shot down.

The one quick decision that saved his B-24 Liberator crew and him from certain catastrophe.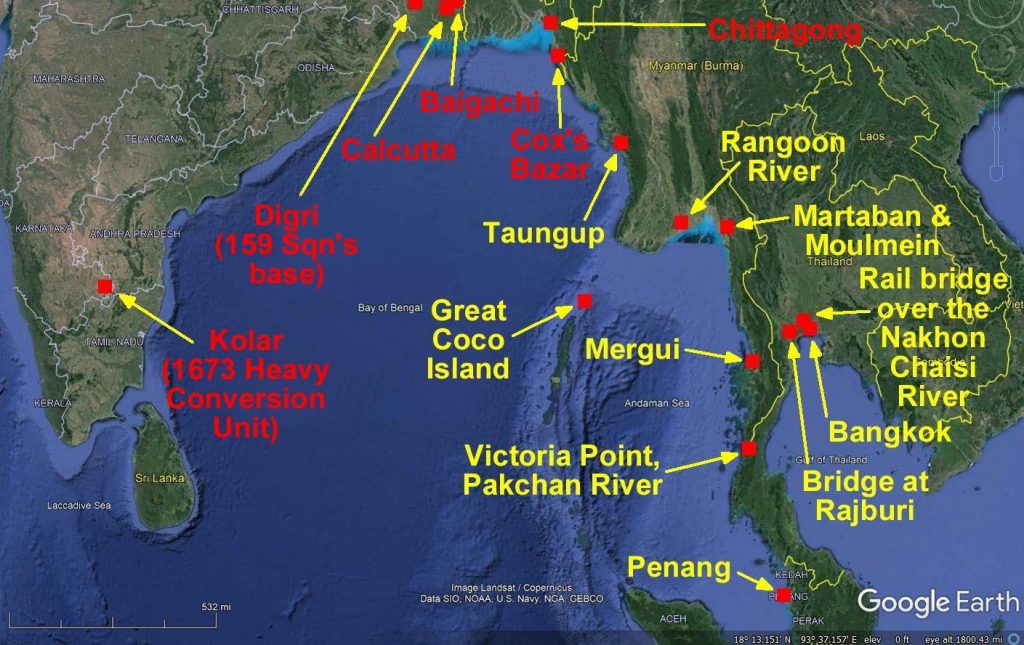 Join Denis as he recalls many other shocking incidents and memories from his life, in war and peace, including:
His amazing post-tour of operations flying around India and the Bay of Bengal.

The dramatic details of his miraculous post-war Dakota emergency landing at Tavoy, Burma, which resulted in a few passengers kissing the ground and later singing 'for he's a jolly good fellow' to him, in thanks.

The horrific murder of a friendly Malayan garage owner during the time when Denis was based in Kuala Lumpur.

His frightening close call with armed men in Malaya.

The fascinating role of the RAF during the early years of the Cold War (and his part in it), including the many exercises he flew throughout the Mediterranean region while captaining iconic four-engine Avro Lancasters. (Denis completed 2172 hours on Lancasters.)

Cycling around Malta.

How he accidentally ripped off the end of a small boy's thumb while at the controls of a Lancaster bomber.

The tragic death by crushing of a woman outside of his accommodation.


Brushes with British royalty.

Unbelievable chance meetings.

His time stationed in Cornwall, UK, teaching the next generation of airmen at the School of Maritime Reconnaissance.

Serving with 228 Squadron, including during the Suez Crisis.

His varied civilian endeavours after leaving the RAF, including his shocking and surprising discovery of a direct link to his childhood.

How, in the spring of 2021, the biggest mystery of his life was solved: the mystery of what had happened with his biological parents and the events surrounding him being sent to an orphanage.
Denis's incredible memory, cross-referenced with numerous records and archives, will take you on a unique journey. Don't believe me? Take a look below and read page 114 of From Orphan to High-Flyer and join Denis as he talks about the impact that the over 18-hour operation to lay mines at Penang Harbour had. It was a record-breaking operation that many British and American air force planners didn't believe was possible. (Click the image to enlarge it.)
In June 2021, From Orphan to High-Flyer was published. It has gone on to sell thousands of copies around the world, has received national media attention in the UK and has given me the privilege to speak on BBC radio stations and numerous podcasts about my best friend and hero, Denis.
Take a look at what other readers have had to say! (Click the images to enlarge them.)
With Amazon's simple refund policy, it's quick and easy to get your money back if From Orphan to High-Flyer doesn't match your expectations.
In fact, until the 25th of November, you can read the Kindle version for free if you are a Kindle Unlimited member!

So don't miss out. Click here and go to Amazon and order your copy now!
P.S. If you have any questions or comments, then please get in touch using the contact form. I (Philip Martin) read and reply to every single message. It will be a pleasure to hear from you!
Don't forget to click the buttons below and share this page!