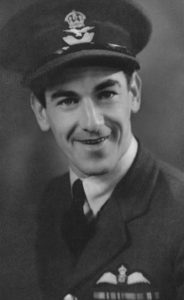 Click here

to order your copy of From Orphan to High-Flyer!
Note: In May 2021, Denis and I learnt the truth about his biological family; much of this new information was added to the book.
From Orphan to High-Flyer is the breathtaking story of Denis Elliott's rise from the horrors of a Victorian-style orphanage and brutal foster parents to command and pilot American-built RAF B-24 Liberators against the Japanese in Asia, then to fly RAF aircraft into the late 1950s during the Cold War, and finally to live a fulfilling existence beyond his time in the military. In the RAF, he defied death many times and was privileged to see lands far from where he was raised in the UK.
If you want to be grabbed and exposed to a theatre of the Second World War that many don't know about, straight from a man who overcame a childhood filled with savage hardship to complete a tour of operations captaining Liberator aircraft against the Japanese at the young age of 20, then this book will take you on an unbelievable journey. And this captivating journey continued long after Denis finished flying Liberator bombers, as described in this book.
My name is Philip Martin. Though roughly seven decades younger than Denis, I was his best friend, and although he shared some recollections of his past with me, I only heard his most personal and surreal details in more recent times.
Until he revealed his deepest experiences, Denis, a quiet and private man, never openly talked about his horrific childhood or the many of the incredible details of his years as an RAF pilot, when he endured enemy guns, engine fires and explosions, other aircraft mechanical faults, vicious storms, passing out from illness at the controls and much more, while flying some of the most iconic aircraft of the day. Many of his stories, then, had been locked away, unknown to you or even to me.
It was only after a severe illness and a fall in 2018 almost killed Denis that the idea of writing his life story occurred to me. Even then, I expected him to say no, as he had done to similar offers in the past. But to me, these tantalising, gripping, death-defying stories had to be told before they were lost forever.
Fortunately, he agreed, and over many cups of tea, Denis's jaw-dropping experiences throughout his life came to the surface after decades of being shut away. I was privy to details and anecdotes that are so unbelievable that they almost don't seem real, and that isn't even including his experiences during the war!
Though the Second World War heroics of the RAF across western Europe are well known, the impact that the RAF had in the Far East is not. Many people have told me, 'I didn't even know that the RAF had a presence in the Far East, including India.' But now, you have the opportunity to read about Denis's wartime RAF contributions in the Far East, in his exact words, and you can also glimpse into many other aspects of his extraordinary life.
Due to our close friendship and Denis's razor-sharp memory, his mesmerising recollections are told with a candid honesty. Some of the many topics include:
The brutality Denis faced in his schooling that would land teachers and officials in jail today.

From the ground, witnessing RAF Spitfires and Hurricanes engage German Luftwaffe Messerschmitts in the skies above Kent, England during the Battle of Britain.

The murder of two RAF cadets in Bechuanaland (now Botswana) and the events that followed.

The nasty, ice-cold instructor who almost killed Denis during Southern Rhodesia flight training with his awful directives.

Denis's 1944 experiences in Jerusalem.

Why Denis, in a fit of rage, pulled a gun on his best friend's crew.

The heroic, charismatic 159 Squadron commanding officer who devised seemingly impossible Liberator operations, which he then led.

The record-breaking operation that many British and American air force planners wrongly insisted was doomed to fail, and then the two subsequent operations to again mine the same distant target.

Flying into vicious storms.

Seeing friends and comrades get shot down.

The one quick decision that saved his Liberator crew and him from certain catastrophe.
Continuing, Denis recalls many other incidents and memories from his earlier life, in war and peace, including:
The dramatic details of his miraculous post-war Dakota emergency landing at Tavoy, Burma, which resulted in a few passengers kissing the ground and later singing 'for he's a jolly good fellow' to him, in thanks.
The murder of a friendly Malayan garage owner during a time when Denis was based in Kuala Lumpur.
Denis's close call with armed men in Malaya. 
His fascinating insight into the role of the RAF during the early years of the Cold War, including his many exercises flown throughout the Mediterranean region while captaining an iconic four-engine Avro Lancaster. 
Cycling around Malta.
How he accidentally ripped off the end of a small boy's thumb while at the controls of a Lancaster.
The tragic death by crushing of a woman outside of Denis's accommodation when a lorry failed to negotiate a curve at too high a speed. 
Brushes with royalty. 
Unbelievable chance meetings.
His time stationed in Cornwall, UK, teaching the next generation of airmen at the School of Maritime Reconnaissance and 228 Squadron.
After he separated from full-time RAF service in 1957, his varied civilian endeavours, including his shocking and surprising discovery of a direct link to his childhood.
From Orphan to High-Flyer is a spectacular weave of personal accounts from Denis's inspirational life. I guarantee that you will shake your head in amazement as you read his words.
So what are you waiting for? Click here to order your copy today!